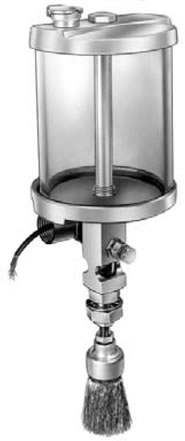 Electro Chain Lubricators
Electro Chain Lubricators are are especially suitable for intermittent operations. They are turned on and off automatically with a solenoid valve, wired across the line of the chain drive motor. The solenoid can also be operated by a separate switch or timer for intermittent use.
Liquid is fed to the brushes by gravity through the solenoid valve, then fed to a metered needle valve. Drop feeding is observed through the window sight. The flexible bristles follow the contour of the moving chain and spread the liquid to all load-carrying points. This will result in reducing chain wear and helps extend the life of the chains. A measured amount of liquid, will spread over the chain, assuring proper coverage, prolonging chain life and reducing waste of liquid.
A spring closing cap is located on the top of all reservoirs. Remote mounts are also available on all models.
---
Call La Belle Lube at 1 888 625 4409 or e-mail your request to websales@labellelube.com