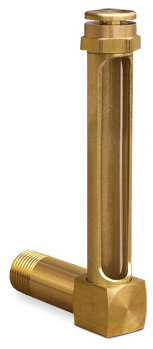 Brass Level Gages
Typical Applications — Used to indicate level of lubricating oil supply at bearings, gear boxes, crank cases, transformers, switches, etc.
Compact Design — Can be installed easily in any location having enough clearance for a one-piece liquid level gage. Gages can be disassembled for installation in very tight places.
Simple Installation — Square shank, with pipe thread, screws horizontally or vertically into tapped hole. Options are available for difficult or irregular mountings.
Quality-Built — Shank body, cylindrical brass shield and cap are machined to close tolerances. Sights are clear, sturdy gage glass. For a leak tight seal, a Buna-N seal and a Teflon® glass protector are furnished. Other commercial seal materials are available on request.
Modifications Available — If desired, these elbow liquid level gages can be supplied with High or Low labels or level marks. In addition to the standard line, many special gages, similar to the ones described here, have been developed for customer's specific applications. Should you have special requirements, our engineering service is available without obligation.
---
Call La Belle Lube at 1 888 625 4409 or e-mail your request to websales@labellelube.com