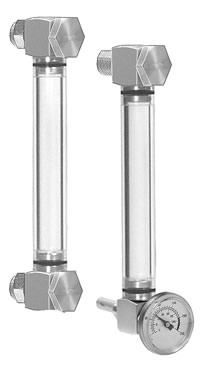 Rigid Plastic Level Gages
Rigid Plastic Level Gages can be mounted flush against the out-side surface of a liquid reservoir with only a small amount of protrusion.

Liquid level gages for flush mounting are used for a multitude of appli-cations, such as on tanks, reservoirs, packaged hydraulic equipment, large steel mill pumps, hydraulic presses, and for any other application where it is desirable to indicate liquid levels.

Liquid level gages are used to determine the liquid level inside a reservoir by visual observation of the level in a transparent sight. The clarity and condition of the liquid can easily be checked. Models with a thermometer will also show the temperature of the liquid.

Break resistant level gages show the liquid level clearly from all sides. These gages are made of clear, transparent, almost unbreakable Trogamid® nylon which can be furnished in many lengths.

Back mounting gages are used on tanks permitting access to the inside in order to fasten the nuts on the mounting studs, inserted in drilled holes in reservoirs. Front mounting gages are used on reservoirs which do NOT permit access to the inside, therefore, the tank must have two tapped holes, to receive the mounting studs, which are fastened from the outside. Many special gages have been developed for customer's specific applications.
---
Call La Belle Lube at 1 888 625 4409 or e-mail your request to websales@labellelube.com