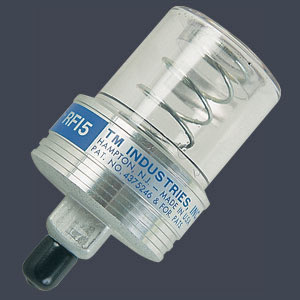 Improved RF15 and RF30 automatic greasers with controlled flow metering valve from full flow to complete shut off. These units are recommended for all types of bearings, all sizes and speeds, with tight or low grease consumption rates. Compact or heavy duty lubricators and has a high strength, the bases are corrosion resistant and will withstand moderately harsh environment, such as salt air, nuclear and x-radiation and abusive treatment
---
COST SAVING FEATURES:
•             Large grease capacity reduces the amount of hours required for lubrication.
•             Increases bearing life by supplying the proper amount of grease needed to operate effi­ ciently.
•             Eliminates grease waste due to overgreasing.
•             Prevents the loss of production time due to bearing failures caused by over or under greasing.
---
HOW UNIQUIP LUBRICATORS OPERATE:
UNIQUIP Lubricators adjust the flow of grease to a bearing automatically, by the use of a new more effective metering control principle. This is accomplished by a special piston O-ring seal that creates a changing level of friction as it moves along the tapered wall of the transparent reservoir dome. The changing resistance is designed to counterbalance the changing force of the compression spring as it gradually ex­ pands.
This balancing principle operates entirely above the grease in the reservoir, never allow­ ing the spring pressure variation to be transmit­ ted through the grease. The result is 50% less pressure on the grease and less tendency for oil separation.
Because the lubricators operate with a single universal spring at the lowest reliable pressure (under 2PSI) no grease is moved into the bear­ ing until it is needed.
---
UNIQUIP LUBRICATOR CONSTRUCTION:
Only high quality heavy duty materials are used and all units are designed to provide trouble­ free service under severe operating conditions. MODEL RF bases are made of non-corroding high strength aluminum alloy. The transparent reservoir dome and piston are molded of high impact heat resistant polycarbonate.
The large transparent reservoir provides an instant visual check of the grease level. It lets you see when to refill the reservoir.
---
UNIQUIP APPLICATIONS:
On any industrial or commercial equipment located indoors or outside:
Equipped with:
•             Anti friction bearing with seals or shields.
•             Bronze, oilite or open bearings.
•             Oscillating, ball or roller bearings.
•             Bearings requiring flushing action.
---
UNIQUIP LUBRICATOR INSTALLATION:
No costly installation required, simply remove the existing grease fitting and install a UNIQUIP Lubricator directly on the bear­ ing. Lubricators can be installed in inaccessible locations and refilled from a distance by means of connecting tubing to the lubricator base.
Installations may be in any position-vertically, 45° angle, horizontally or upside down.
The lubricator base thread is 1/8" NPT. See accessories list for optional adapters.

---
UNIQUIP MODEL RF15 - Heavy Duty - 1.6 oz capacity ( 47 grams )
All type bearings-all sizes and speeds with tight spaces or low grease consumption rates.
Compact heavy duty lub­ricator has high strength corrosion resistant base. withstands moderately harsh environments such as salt air and abusive treatment (vibration and oscillation ). also withstands nuclear and x-radiation.
---
UNIQUIP MODEL RF30 - Heavy Duty - 5.3 oz capacity ( 150 grams )
All type bearings-all sizes and speeds with moderate to high grease consumption rates
Heavy duty lubricator is identical to model rf15 except that it's grease capacity is three times as large. Ideal for difficult or dangerous to get to locations.