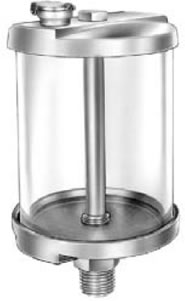 Oil Cup Reservoirs
Oil Cup Reservoirs dispense liquid by gravity, from a reservoir and are furnished without shutoff or valves.
These dispensers are designed to serve as a central reservoir of an oiling system. Shutoff valves and additional sight feed valves are required for the regulation of the liquid flow.
Durable shatterproof polycarbonate reservoirs are for temperatures below 250 degree F, Acrylic and Pyrex reservoirs are available for temperatures below 160 degrees F. They are also useful for many applications where it is desirable to visually inspect the presence and clarity of the liquid.
A spring closing cap is located on the top of all reservoirs. Remote mounts are also available on all models.
---
Call La Belle Lube at 1 888 625 4409 or e-mail your request to websales@labellelube.com