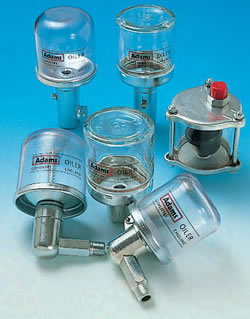 Constant Level Lubricators are assembled to give a long and maintenance free service. The best workmanship and materials are used through the manufacturing process. They will maintain a fixed liquid level in the bearing housing or gear box.
When the liquid in the bearing recedes because of liquid consumption, the liquid seal on the inside of the lubricator is temporarily broken. This allows air from the air intake to enter the lubricator reservoir, releasing the liquid until a seal and proper level are again established.
Units are easily filled through a top filler cap, allowing the reservoir not to be removed during the fill process. A shutoff valve holds the liquid in the reservoir when the filler cap is removed. After the filler cap is screwed down again, the lubricator resumes normal function.
An air vent is supplied which can be piped back to the bearing or gear box thereby equalizing any existing pressure or vacuum. The reservoir is crystal clear glass or shatterproof acrylic permitting the liquid to be visible at all times.
Call La Belle Lube at 1 888 625 4409 or e-mail your request to websales@labellelube.com